We want you to get the most out of your 'luxury villa' stay in Solterra, Davenport (near Championsgate and just south of the Disney World Resort area). To help out, we have sourced the following blog post to keep you up to date with news from Walt Disney World Resort. Thanks to the guys over at Blog Mickey for the original post...
As Disney continues to evaluate their phased reopening plans, BlogMickey.com has learned that the plan is to keep the Voyage of the Little Mermaid show permanently closed.
The show, which has been running at Disney's Hollywood Studios since 1992, was reportedly under consideration to take a final bow before the COVID-19 pandemic shut the parks down. Between the extended closure and ongoing battle with the Actors' Equity union, Disney has decided to end the show rather unceremoniously, we're told.
As you can see in the photos below, the queue was never marked for social distancing, an indication that there were no plans to reopen the show when the theme parks reopened, we were told by Cast Members in the area. As a matter of fact, other shows have had social distancing markers in place for when the union stalemate comes to an end.
First, here's a look at Voyage of the Little Mermaid has it sits today, followed by the other Hollywood Studios shows that have social distancing markers in place (although they remain temporarily closed).
Here is a look at the Indiana Jones Epic Stunt Spectacular, complete with queue and seating social distancing markers.
Set pieces sit waiting for the Cast to return.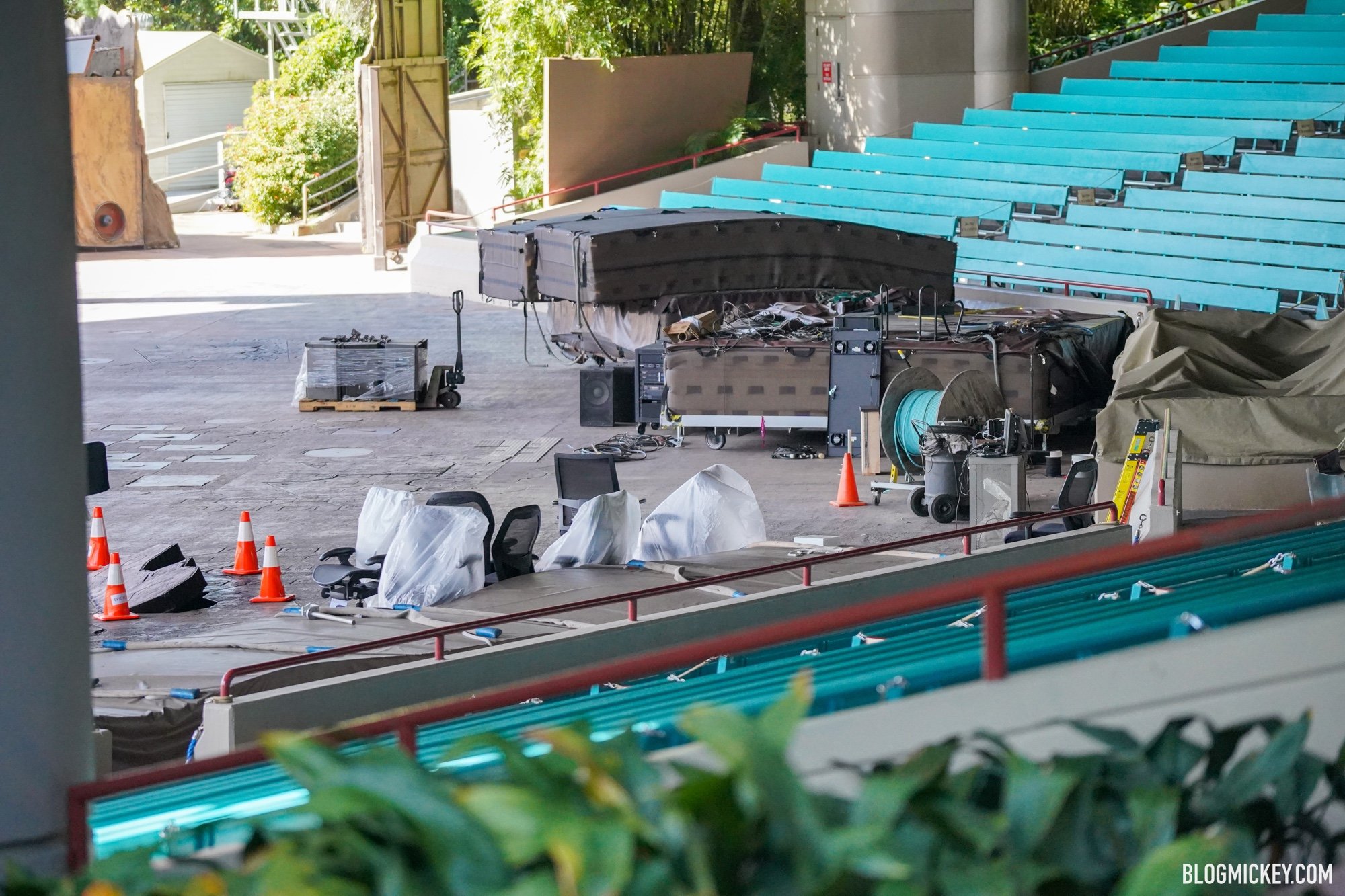 Over at the Frozen Sing-Along, queue stickers and pre-show dots are in place.
At Beauty and the Beast, we can find extensive queue markers and we're told that the stadium seating is also marked like Indiana Jones above.
Of course, the all-new Disney Junior Play and Dance show that features all non-equity Cast Members has markings as well.
As with any rumor, you should treat this information as unofficial unless and until Disney confirms it.
---
As always, keep checking back with us here at BlogMickey.com as we continue to cover the reopening of the Walt Disney World theme parks by bringing you news and photos from Magic Kingdom, Disney's Animal Kingdom, EPCOT, and Disney's Hollywood Studios!
That's all folks!
Well, for this post anyway. To stay tuned to the latest news from around the Orlando area, including Disney World, Universal Studios, SeaWorld and many more attractions, just 'opt in' to our weekly newsletter. We won't spam you and you can opt back out if you ever get tired of news from Orlando. Like that would ever happen?!